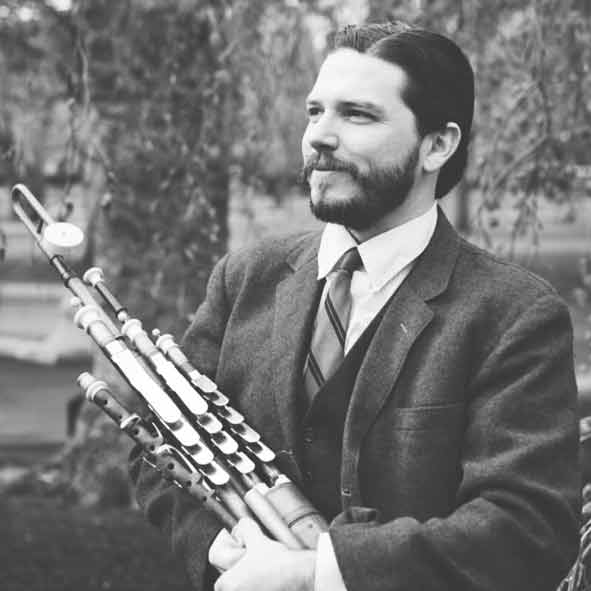 Joey Abarta has spent the last seventeen years touring North America, Europe, and Asia, teaching and performing music on the uilleann pipes. A Los Angeles native, he first received instruction on the pipes from Dubliner Pat D'Arcy, a founding member of the Southern California Uilleann Pipers Club.
Joey's musical skills have been further honed by several visits to Ireland, a year-long stay in Japan, and continuing relationships with master pipers. In August of 2009, his accomplished playing won him a second place trophy the Fleadh Cheoil na hEireann. In the fall of 2014, Joey won first prize at the An tOireachtas becoming the first American uilleann piper to do so since 1969. In 2015, he was honored to be a recipient of a traditional arts apprenticeship from the Massachusetts Cultural Council, a grant to teach his art to the next generation.
Currently based in Boston, Joey divides his attention between performance, teaching, and recording. In addition to performing solo, he performs with his wife, old-style step dancer Jaclyn O'Riley, Nathan Gourley of "Life is all Checkered" and "The Truckley Howl" fame, and has toured with Mick Moloney and the group The Green Fields of America. While at home, he organizes meetings of the Boston Pipers Club, as well as various traditional music concerts and events. In 2018, Joey was invited to play with his wife for the president of Ireland at the Abbey Theater in Dublin for Na Píobairí Uilleann's celebration of uilleann piping being recognized as an Intangible Cultural Heritage of Humanity by UNESCO.
For more information about lesson packages and rates, click below.