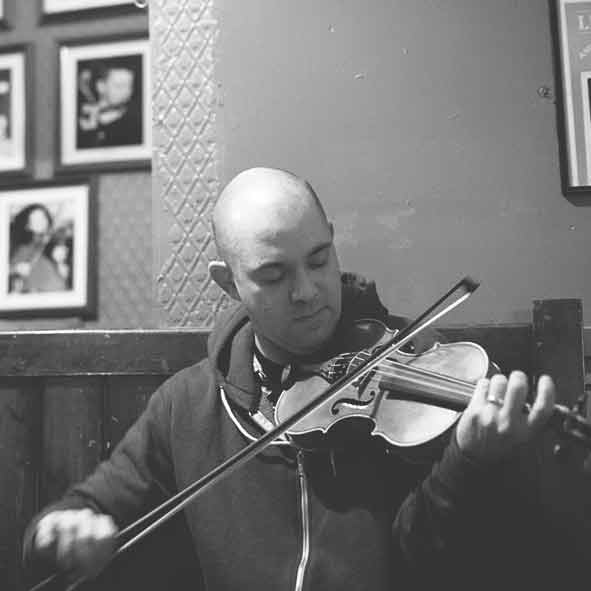 Jesse Smith was born to a musical family in Baltimore, where he was immersed in a thriving Irish music tradition.  His mother (and fellow IMI instructor), Donna Long, has recorded and performed with Brendan Mulvihill and Cherish the Ladies.  His dad, John, sings and plays the guitar. Jesse started playing the fiddle at an early age, studying with Mulvihill, a renowned fiddle player and teacher.  In 1998, his love for the music took him to Ireland to stay, where he made his mark as a fiddler touring and recording with the great Irish band Danú, hailed "Best Traditional Group" by the BBC folk awards.  His well received 2002 debut solo fiddle album Jigs and Reels was among the top ten Irish traditional music recordings cited by music columnist Earle Hitchner in America's largest Irish weekly, "The Irish Echo". Jesse went on to release The Tap Room Trio with Harry Bradley and John Blake, simply one of the best recordings of Irish traditional music in recent years.  His 2010 release, The Ewe With The Crooked Horn, with Colm Gannon and John Blake, received high praise.  He has also appeared as a guest musician on albums by Harry Bradley, Cherish the Ladies, Colm Gannon, Alan Kelly, Sharon Shannon, Enda Scahill, Tim Dennehy, and Donna Long.  He teaches at many of the Irish music summer and winter festivals including the Frankie Kennedy and the Willie Clancy schools.
From his research thesis on Sligo's Michael Coleman to his Master of Arts degree from Dundalk Institute of Technology, Jesse brings a level of skill, confidence, and artistic judgment to his playing.  He learned well in his younger days, absorbing the music that was around him, and his travels and experiences in Ireland have rounded out his musical education and helped develop his individual approach.  His fiddle playing is understated and tasteful; his bowing, remarkable.  A passion for the Irish traditional fiddle music of the 78rpm era can be heard in his choice of material, and his concert performances invariably include classics from the repertoires of the great Sligo fiddle trinity: James Morrison, Paddy Killoran, and Michael Coleman.
For more information about lesson packages and rates, click below.