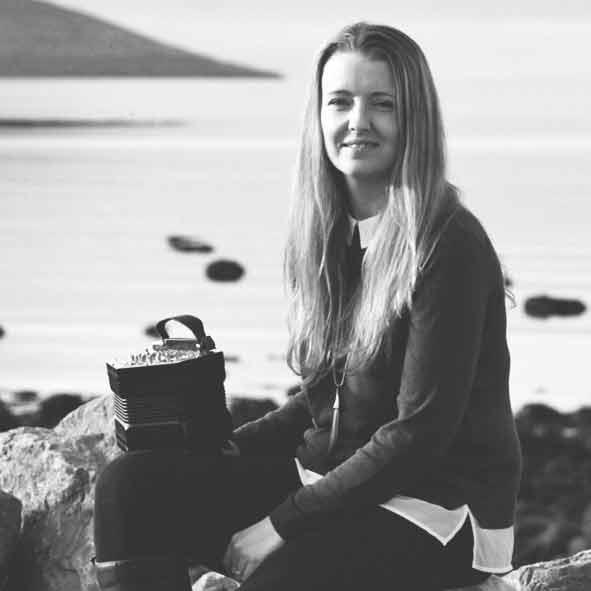 Florence Fahy is a native of north Co. Clare's New Quay, just a short trip up the road from Bellharbour, home to famed and late concertina player Chris Droney and the center of an unusually rich tradition of concertina playing in Ireland. Florence was inspired to play the concertina by her father, a great concertina player himself, Martin Fahy. From a young age, Florence remembers her father often playing records of Jack and Charlie Coen, Paddy Carty, the Kilfenora and Tulla Ceili Band, among many more – there was always music in the house! It was from this that Florence fell in love with the music and the concertina.
Florence's style of playing has been strongly influenced by her father, among other great teachers through the years such as Brid Meaney, Dymphna O'Sullivan, and Tim Collins. Florence is passionate about the older traditional style of Clare concertina playing, and this is something that is evident in her playing. She has participated in the All-Ireland Fleadh Cheoil', where she has claimed medals in both solo and group competitions.
Florence was involved with different music groups while living in Ireland, and has toured Europe, North America, Australia, and the Middle East. In August of 2017, Florence released her debut CD album Tunes From The Flaggy Shore with her father. The Flaggy Shore, located in the heart of the Burren on the Wild Atlantic Way, is where Florence grew up, and the great Nobel Prize winner Seamus Heaney wrote a poem about the area called "Poetscript".  It was a dream come true for Florence to have a recording with her father and some of her closest musical friends.
For more information about lesson packages and rates, click below.