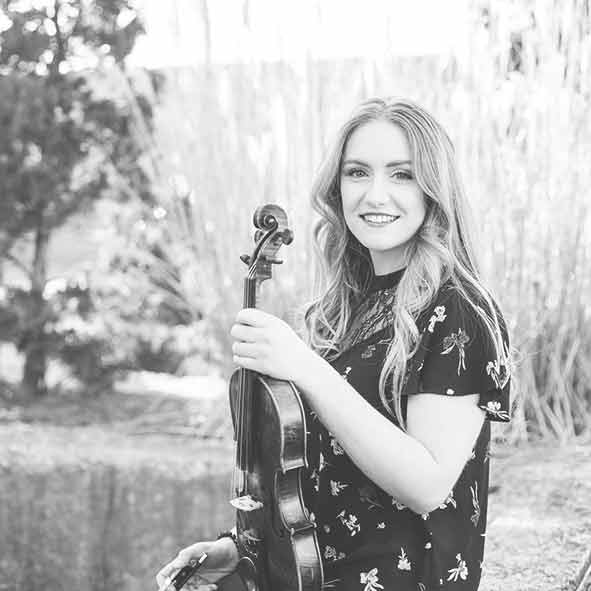 Fiddle, Singing (English & Irish)
Eimear Arkins comes from a small village on the west coast of Ireland called Ruan, in Co. Clare. She is an award–winning musician, singer, and dancer with eleven Irish music world championship titles to her credit. Eimear has toured extensively with the international music organization Comhaltas Ceoltóirí Éireann on concert tours throughout Ireland, Britain, North America, and Canada. She has also performed with the internationally renowned show Brú Ború and was part of the troupe that represented Ireland at World Expo 2010 in Shanghai. In August 2015, she traveled to World Expo in Milan with St. Louis Irish Arts where she promoted not only Irish culture but the expression of Irish culture worldwide. Eimear has toured throughout the US and Ireland with The Paul Brock Band, Cherish the Ladies, Tomaseen Foley's A Celtic Christmas, and regularly performs with harp player and St Louis native, Eileen Gannon. Eimear is a qualified Irish music and dance instructor. She has performed and given workshops at festivals all over the world including Féile Séamus Creagh, Newfoundland; Catskills Irish Arts Week; Viljandi Pärimusmuusika Festival, Estonia; St Louis Tionól; Canadian Celtic Celebration, and Festival Interceltique de Lorient, France. In June 2018, she released her debut album, What's Next? and was awarded "Best Newcomer" from LiveIreland in 2019. In January 2020, Eimear was awarded an Artist Fellowship from the Regional Arts Commission of St. Louis.
For more information about lesson packages and rates, click below.